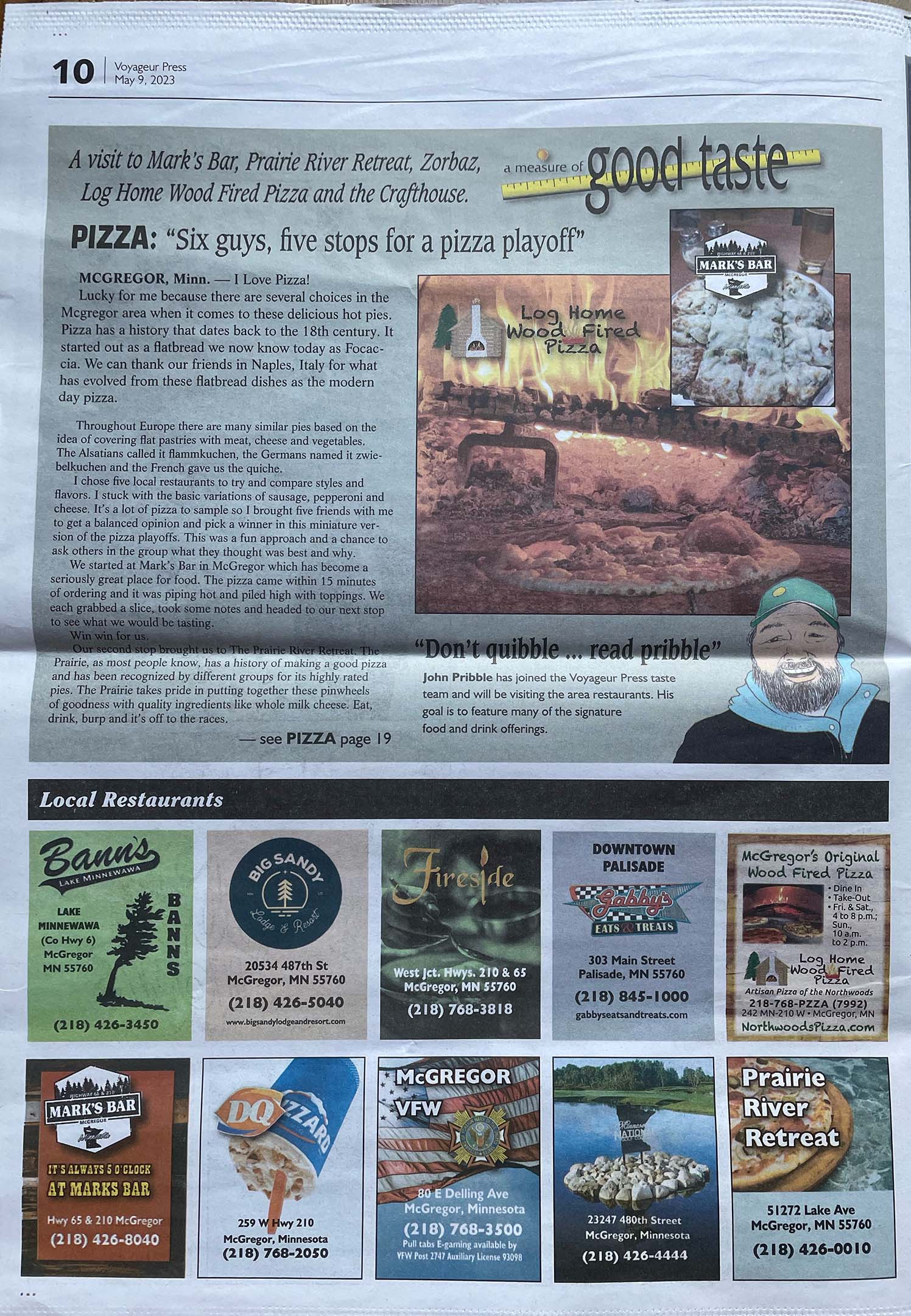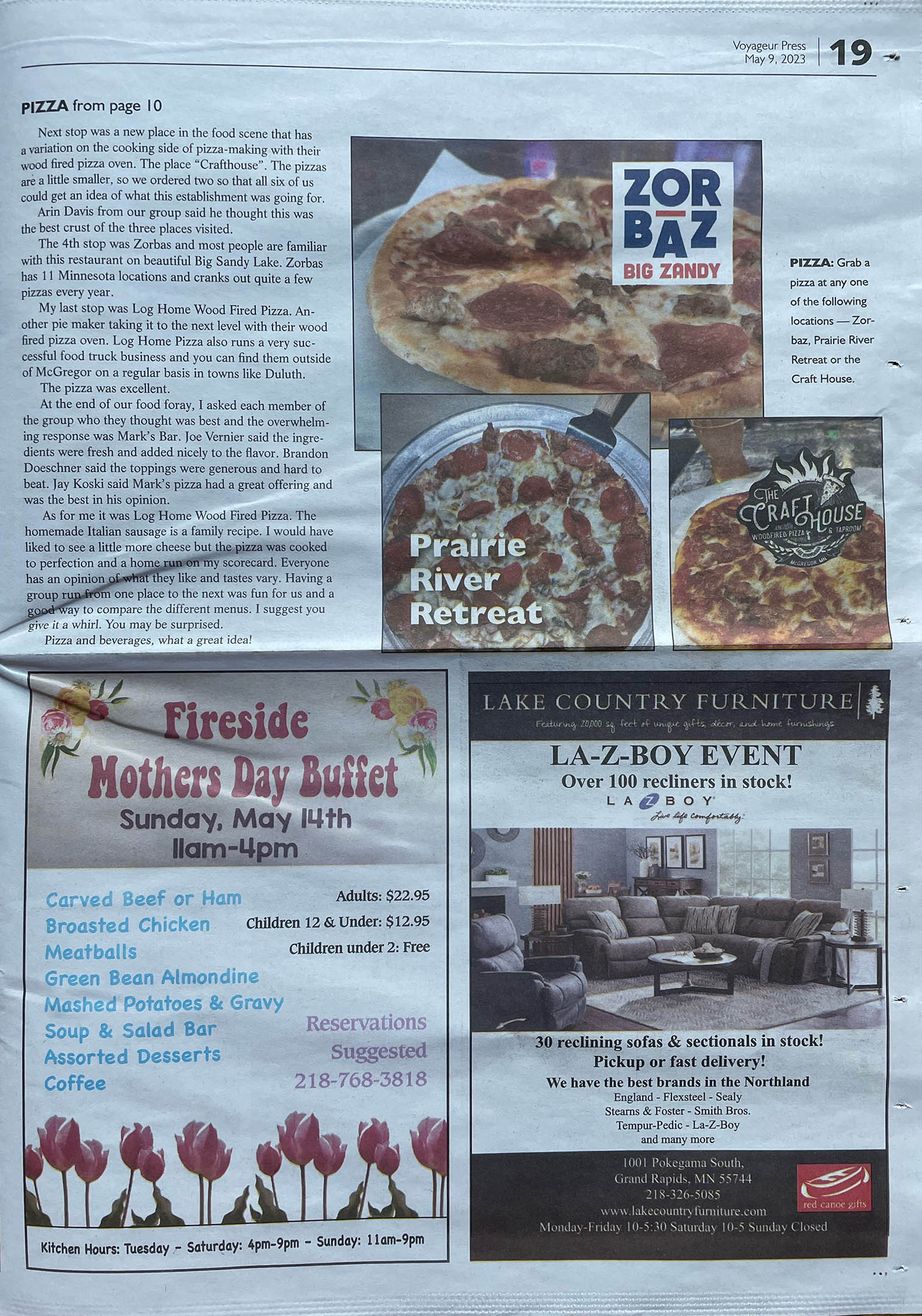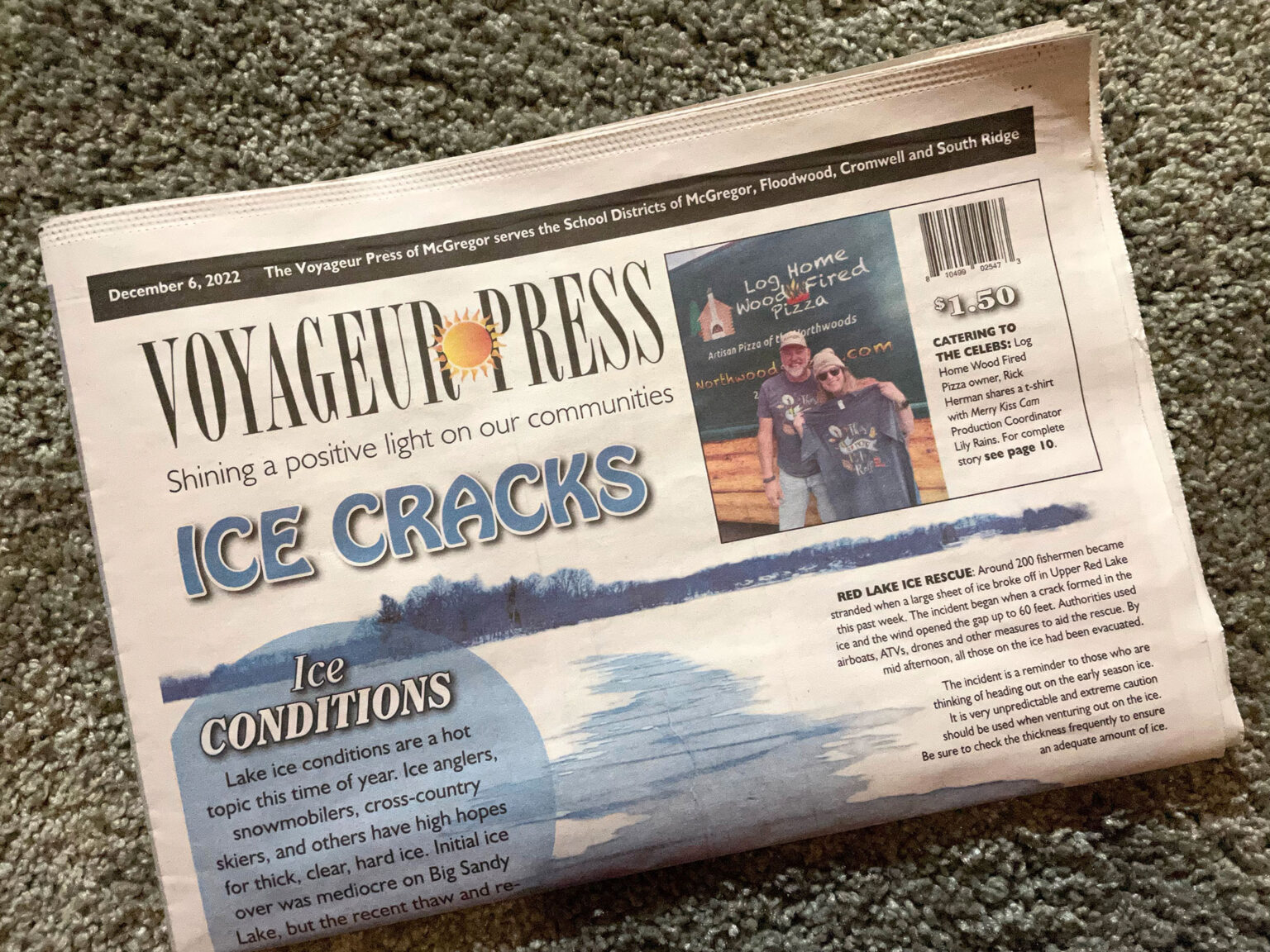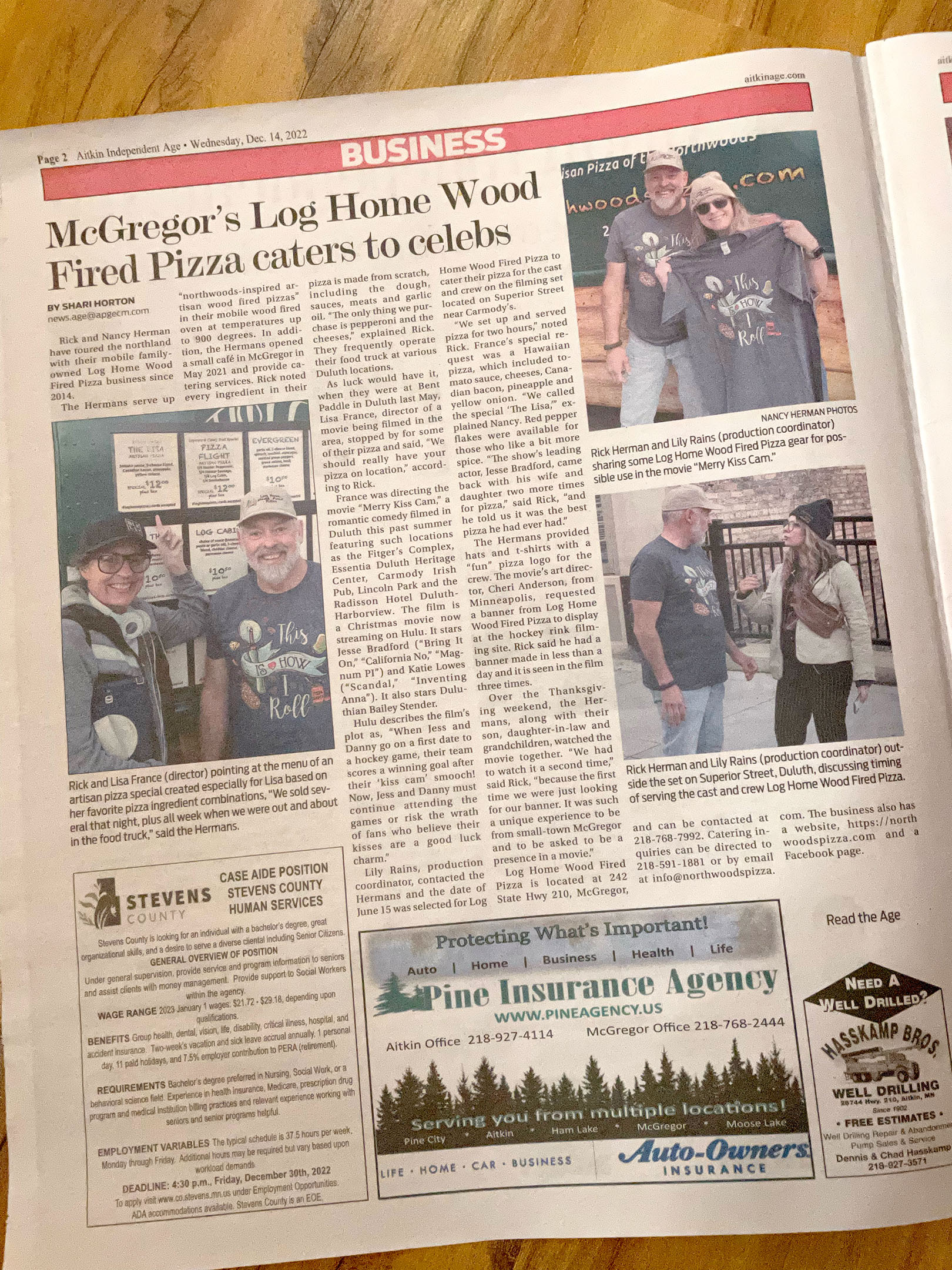 Voyageur Press                  Aitkin Independent Age
December 6, 2022            December 14, 2022

McGregor's Log Home Wood Fired Pizza caters to celebs
By Shari Horton
Rick and Nancy Herman have toured the northland with their mobile family-owned Log Home Wood Fired Pizza business since 2014. The Hermans serve up "northwoods-inspired artisan wood fired pizzas" in their mobile wood fired oven at temperatures up to 900 degrees! In addition, the Hermans opened a small café in McGregor in May 2021 and provide catering services. Rick noted every ingredient in their pizza is made from scratch, including the dough, sauces, meats and garlic oil. "The only thing we purchase is pepperoni and the cheeses," explained Rick. They frequently operate their food truck at various Duluth locations.
As luck would have it, when they were at Bent Paddle in Duluth last May, Lisa France, director of a movie being filmed in the area, stopped by for some of their pizza and said, "We should really have your pizza on location," according to Rick.
France was directing the movie "Merry Kiss Cam," a romantic comedy filmed in Duluth this past summer featuring such locations as the Fitger's Complex, Essentia Duluth Heritage Center, Carmody Irish Pub, Lincoln Park and the Radisson Hotel Duluth-Harborview. The film is a Christmas movie now streaming on Hulu. It stars Jesse Bradford ("Bring It On," "California No," "Magnum PI") and Katie Lowes ("Scandal," "Inventing Anna"). It also stars Duluthian Bailey Stender.
Hulu describes the film's plot as, "When Jess and Danny go on a first date to a hockey game, their team scores a winning goal after their 'kiss cam' smooch! Now, Jess and Danny must continue attending the games or risk the wrath of fans who believe their kisses are a good luck charm."
Lily Rains, production coordinator, contacted the Hermans and the date of June 15 was selected for Log Home Wood Fired Pizza to cater their pizza for the cast and crew on the filming set located on Superior Street near Carmody's.
"We set up and served pizza for two hours," noted Rick. France's special request was a Hawaiian pizza, which included tomato sauce, a five-cheese blend, Canadian bacon, pineapple and yellow onion. "We called the special 'The Lisa,'" explained Nancy. Red pepper flakes were available for those who like a bit more spice. "The show's leading actor, Jesse Bradford, came back with his wife and daughter two more times for pizza," said Rick, "and he told us it was the best pizza he had ever had."
The Hermans provided hats and t-shirts with a fun pizza logo for the crew. The movie's art director, Cheri Anderson, from Minneapolis, requested a banner from Log Home Wood Fired Pizza to display at the hockey rink filming site. Rick said he had a banner made in less than a day, and it is seen in the film three times.
Over the Thanksgiving weekend, the Hermans, along with their son, daughter-in-law and grandchildren, watched the movie together. "We had to watch it a second time," said Rick, "because the first time we were just looking for our banner. It was such a unique experience to be from small-town McGregor and to be asked to be a presence in a movie."
Log Home Wood Fired Pizza is located at 242 State Hwy 210, McGregor, and can be contacted at 218-768-7992. Catering inquiries can be directed to 218-591-1881 or by email at info@northwoodspizza.com. The business also has a website, northwoodspizza.com plus FaceBook and Instagram pages.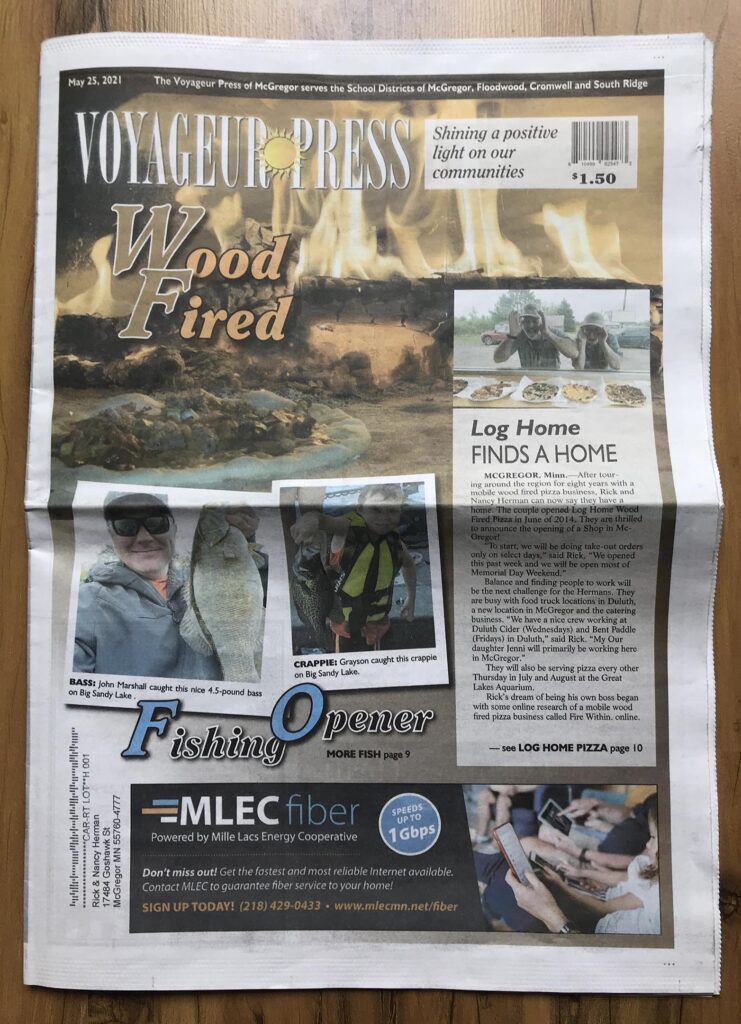 Voyageur Press
May 25, 2021
MCGREGOR, Minn.—After touring around the region for eight years with a mobile wood fired pizza business, Rick and Nancy Herman can now say they have a home. The couple opened Log Home Wood Fired Pizza in June of 2014. They are thrilled to announce the opening of a Shop in McGregor!
"To start, we will be doing take-out orders only on select days," said Rick, "We opened this past week and we will be open most of Memorial Day Weekend." Balance and finding people to work will be the next challenge for the Hermans. They are busy with food truck locations in Duluth, a new location in McGregor and the catering business. "We have a nice crew working at Duluth Cider (Wednesdays) and Bent Paddle (Fridays) in Duluth," said Rick. "Our daughter Jenni will primarily be working here in McGregor."
They will also be serving pizza every other Thursday in July and August at the Great Lakes Aquarium.
Rick's dream of being his own boss began with some online research of a mobile wood fired pizza business called Fire Within. Finally, he and Nancy attended Fire Within's "Wood Fired University" to learn everything there is to know about operating a successful wood fired pizza business.
The family run business, is dedicated to providing quality, fresh wood fired pizza to the residents of northern Minnesota. "We specialize in creating and offering a variety of delicious, northwoods-inspired artisan pizzas and a memorable dining experience," explained Nancy.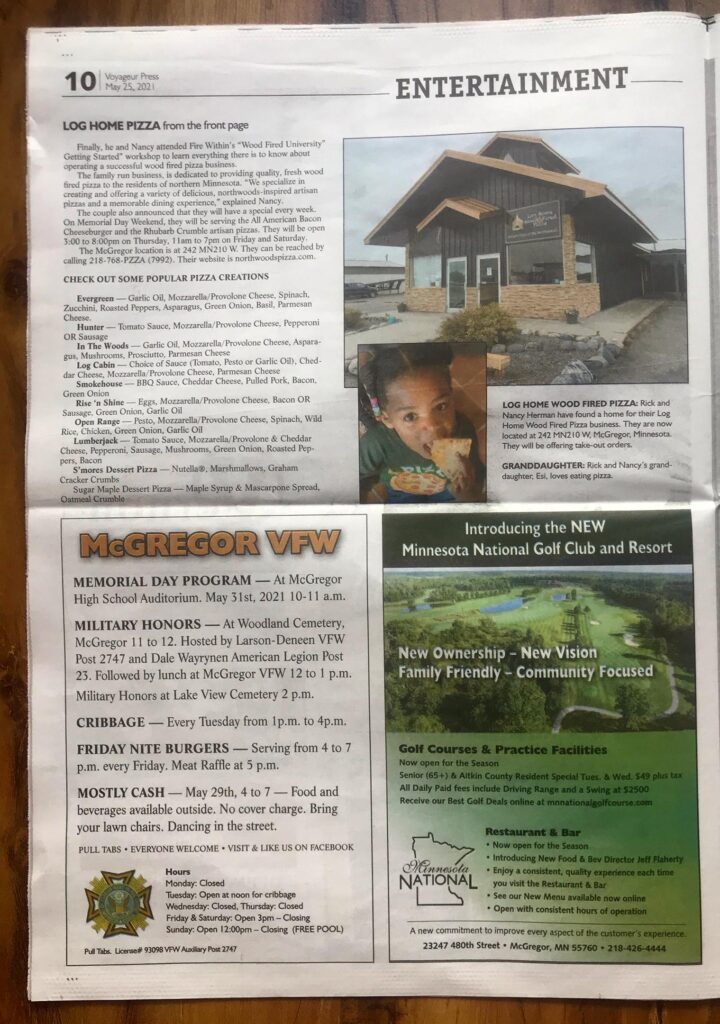 The couple also announced that they will have a special every week. On Memorial Day Weekend, they will be serving the All American Bacon Cheeseburger and the Rhubarb Crumble artisan pizzas. They will be open 3 to 8pm on Thursday, 11am to 7pm on Friday and Saturday.
The McGregor location is at 242 MN210 W. They can be reached by calling 218-768-PZZA (7992). Their website is northwoodspizza.com.
CHECK OUT SOME POPULAR PIZZA CREATIONS
Evergreen — Garlic Oil, Mozzarella/Provolone Cheese, Spinach, Zucchini, Roasted Peppers, Asparagus, Green Onion, Basil, Parmesan Cheese.
Hunter — Tomato Sauce, Mozzarella/Provolone Cheese, Pepperoni OR Sausage
In The Woods — Garlic Oil, Mozzarella/Provolone Cheese, Asparagus, Mushrooms, Prosciutto, Parmesan Cheese
Log Cabin — Choice of Sauce (Tomato, Pesto or Garlic Oil), Cheddar Cheese, Mozzarella/Provolone Cheese, Parmesan Cheese
Smokehouse — BBQ Sauce, Cheddar Cheese, Pulled Pork, Bacon, Green Onion
Rise 'n Shine — Eggs, Mozzarella/Provolone Cheese, Bacon OR Sausage, Green Onion, Garlic Oil
Open Range — Pesto, Mozzarella/Provolone Cheese, Spinach, Wild Rice, Chicken, Green Onion, Garlic Oil
Lumberjack — Tomato Sauce, Mozzarella/Provolone & Cheddar Cheese, Pepperoni, Sausage, Mushrooms, Green Onion, Roasted Peppers, Bacon
S'mores Dessert Pizza — Nutella®, Marshmallows, Graham Cracker Crumbs
Sugar Maple Dessert Pizza — Maple Syrup & Mascarpone Spread, Oatmeal Crumble
Keeper of the fire
Non-traditional weddings are becoming more common in this age of individuality. "Doing it the way it's always been done" is not always accepted by those who wish to reflect their own style and what they care about.
Wood fired ovens create a unique experience in the world of cuisine. The flames deep within the wood fired oven catch your attention. The aroma of the burning oak draws you closer. Simple as it may be, the process of baking the pie is not only in the cooking; it is a performance of which families never tire. The intrigue and anticipation makes the fresh-out-of-the-oven moment that much better and wood fired ovens bring flavor forward unlike any other oven.
To create a memorable culinary event that not only you, but your wedding guests, family and friends will never forget, you might want to consider serving wood fired pizza. We bring our mobile wood fired oven on site to your wedding, rehearsal dinner or bachelor/bachelorette party and serve your guests northwoods-inspired artisan pizzas. Our experienced pizzaiolo and his staff are passionate about pizza. That's why every item on the menu is prepared by hand. Fresh ingredients, hand chopped vegetables, roasted peppers, homemade sauces, locally sourced, specially prepared and hand-pulled pork, chicken and our secret ingredient sausage are featured on our diverse menu. The wild rice used is hand-harvested in the northwoods.
Made fresh for your event, our highly-praised dough is hand-rolled and proofed. Lovingly created on site, each pie is hand-stretched and topped to create the perfect thin crust pizza. You can taste the love infused in the homemade tomato, pesto, bbq and roasted garlic oil sauces that begin the pie creation. Right out of our 900º oven, our pizzas are hot and fresh for you and your guests.
To complete the meal, we offer wood fired appetizers, fresh salads with homemade dressings and dessert pizzas. The bacon wrapped jalapeño poppers and prosciutto wrapped asparagus bundles crisp up from the radiant heat of the oven. The light char on the stuffed mushrooms deepens the earthy flavor. Greens grown by local farmers are drizzled with made-from-scratch ranch or Caesar dressings, or homemade pure maple syrup vinaigrette, prepared specially for your event. Fresh mozzarella balls and cherry tomatoes are incorporated into our basil pasta salad and caprese skewers.
We embrace the region in which we live. Along with the mobile wood fired oven, the pizzas, appetizers and salads come together in a northwoods presentation which includes our log home-look counter, plus other northwoods decor. We love living up north and everything we do is a reflection of us.
Choosing the right caterer is an important decision in the wedding planning process. You want to be comfortable with the company providing your food. No matter how large or small your event, we can meet your needs. Remember, as with other parts of your wedding, you'll want to reserve your caterer early to ensure your date is available.
This is your special day, a reflection of you and your individual style. Everyone loves pizza. On site at your wedding location, provide your guests with a flavorful culinary experience they will always remember with a mobile wood fired oven.
Pizzaiolo and keeper of the fire, Rick Herman is the owner of Log Home Wood Fired Pizza. Based out of McGregor, MN, he serves the northland and occasionally throughout the state. 218-591-1881, wedding@northwoodspizza.com, northwoodspizza.com.