Our Journey ~ how we got here
Rick's Dream Becomes Reality
Rick dreamt of being his own boss for years. He began researching the mobile wood fired pizza business after finding a company called Fire Within online. After e-mailing and conversing with the owner on numerous occasions, he ordered their business plan and read it thoroughly. Finally, he and Nancy attended Fire Within's "Getting Started" workshop to learn everything there is to know about operating a successful wood fired pizza business.
In June 2014, Rick's dream became a reality when Log Home Wood Fired Pizza was established. Log Home Wood Fired Pizza, LLC, a family-operated and veteran-owned business, is dedicated to providing quality, fresh wood fired pizza to the residents of northern Minnesota. We specialize in creating and offering a variety of delicious, northwoods-inspired artisan pizzas and a memorable dining experience.
We added a food truck in 2018. Our Shop in McGregor opened in May of 2021.
Our mission
is to provide our customers with a distinct food experience and traditional wood fired pizza created with fresh, ingredients and artisan craftsmanship.
Our artisan wood fired pizzas can be enjoyed
throughout the northwoods of Minnesota and on our Brewery & Cidery Trail - which includes Bent Paddle Brewing Co. (Duluth), Duluth Cider, Wild State Cider (Duluth), Moose Lake Brewery and Warrior Brewing Co. (Duluth), plus town celebrations and festivals. We're the "Official Pizza of the Duluth Huskies." We also do catering and fundraising events. Our Shop in McGregor offers an extended menu.
Our season
generally runs from May thru October depending on weather and events. Check our calendar to find where we are today!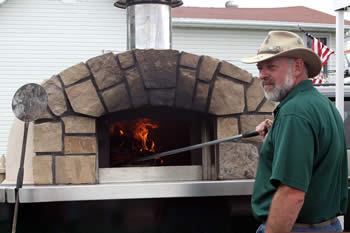 Rick Herman
Rick was an educator for over 28 years, where he was a teacher, consultant, elementary principal, high school principal and superintendent. His background also includes over 14 years in the Minnesota National Guard. He was successful in each position and relates well with people of all ages.
His interests in the wood fired pizza business are numerous. He enjoys cooking, working with fire and providing people with a quality dining experience. He has been cooking, creating recipes and feeding friends and family for as long as he can remember.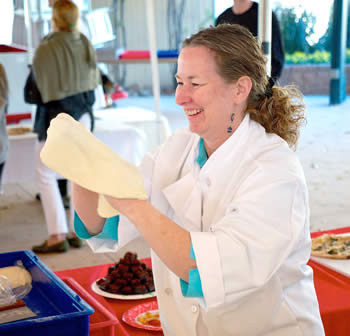 Nancy Herman
Nancy's background is in the field of graphic design, advertising, marketing and sales. She operates her own business, Yellow River Advertising & Design, LLC, where she helps clients by providing them with quality and successful marketing campaigns.
Nancy has worked in northwest Wisconsin, southern Minnesota and northeast Minnesota for over 25 years. She enjoys getting to know and working with customers, catering to their specific needs.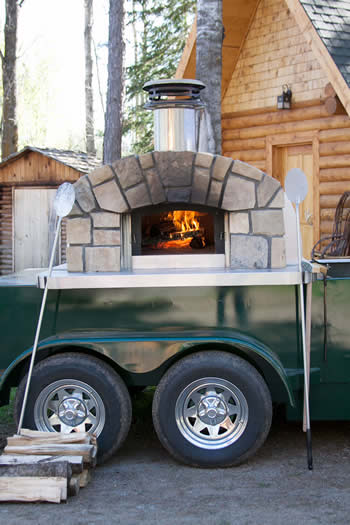 Wood Fired Oven
I'm a mobile Forno Bravo oven mounted to a Maxey commercial trailer weighing in at impressive 7700 pounds empty. I burn oak, poplar and maple woods. It takes about 2 hours to heat me up to 900°.
Once up to temperature, I can cook a pizza in about 90 seconds. I can hold up to 10 pizzas at a time during peak performance.