Pizza Creators Wanted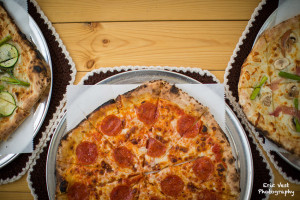 Love pizza? We'd love to have you come work for us! Apply today!
Join our growing mobile and brick and mortar wood fired pizza operation in northern Minnesota. Work as a valued team member in our fast-paced, outdoor environment or in our Shop in McGregor and create delicious, northwoods-inspired pizzas.
We're hiring for the Duluth and McGregor areas. Our mobile season runs May thru October. Our Shop is open year-round. Competitive beginning pay, which includes FREE pizza!
Duties include, but are not limited to, prepping ingredients, taking orders, assembling pizzas, setting up, tearing down and cleaning.
At Log Home Wood Fired Pizza, we prefer to hire Pizza Creators who are committed, can work a minimum of three shifts per week and are willing to learn. Shifts may include Commissary, Shop, Vending, Catering and Weekends. Please note - shifts may begin as early as 7 a.m. and go as late as 11:30 p.m. Evening and weekend availability a MUST.

Positions open until filled. Apply today – our season starts soon!
Log Home Wood Fired Pizza is an EQUAL OPPORTUNITY EMPLOYER
How to Apply
Please fill out the form below and attach your resumé. It's that simple!